London Sacred Harp and Coronavirus
With the new guidance of 16 March on public gatherings, London Sacred Harp has cancelled all singing events and will not be meeting until the situation changes. Please enjoy the material on this site, listen to the recordings or join the community on our Facebook group to stay in touch during this period of social and physical isolation. FaSoLa!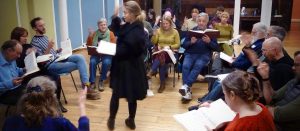 London Sacred Harp sings every week in London, UK in the tradition of a cappella community folk hymn singing from the United States. The Sacred Harp is the name of the book we sing from. The tradition has roots in Europe, but has mainly developed in the American South.
We don't rehearse or perform. We sing for our fellow singers. Everyone sings. Everyone sings loudly and freely. And everyone sings for their own enjoyment. Anyone can learn to sing Sacred Harp. Our singings are open to all. Singers of all religions and none are welcome. There is no fee or subscription, but we do suggest a small donation of £3 to £5 to help us cover our costs for venue hire if you can afford it. And you don't need to be able to read music or have a so-called "good" voice.
New singers are welcome at any of our singings, especially at our monthly Beginners Singing School at St George's Church in Bloomsbury in central London. The next Singing Schools are on:
There are no upcoming events.
We also have monthly singings in Brockley, Hampstead, and Primrose Hill.
Other singings take place around the UK, Europe, the USA, and elsewhere.
amazon coffee canister