Welcome to London Sacred Harp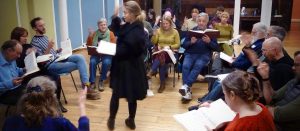 London Sacred Harp sings every week in London, UK in the tradition of a cappella community folk hymn singing from the United States. The Sacred Harp is the name of the book we sing from. The tradition has roots in Europe, but has mainly developed in the American South.
We don't rehearse or perform. We sing for our fellow singers. Everyone sings. Everyone sings loudly and freely. And everyone sings for their own enjoyment. Anyone can learn to sing Sacred Harp. Our singings are open to all. Singers of all religions and none are welcome, and our diverse community reflects this. There is no fee or subscription, but we do suggest a small donation of £3 to £5 to help us cover our costs for venue hire if you can afford it. There is no commitment, you can come once or many times as you please. And you don't need to be able to read music or have a so-called "good" voice.
New singers are welcome at any of our singings.
Other singings take place around the UK, Europe, the USA, and elsewhere.


London Sacred Harp and COVID–19

Updated September 2022
London Sacred Harp is singing with coronavirus protocols in place. Please make sure you have read all details and weigh any decision to sing with us based on your own personal circumstances. These protocols have been devised in an attempt to allow as many singers to participate as possible. They are subject to review based on the course of the pandemic and public health guidance.
All singers must be fully vaccinated against coronavirus or if unvaccinated, have had a negative lateral flow test within the 48 hours prior to the singing. We encourage all singers to take a lateral flow test on the day.
Masks and physical distancing are welcome but not mandatory, if any singer wishes to use a mask or sit at a chosen distance we ask everyone to respect this.
Please do not attend if you have any symptoms of respiratory illness or COVID-19.
Please do not attend if you have recently been in close contact with someone who has tested positive for COVID-19 or has symptoms of the illness.
Everyone has different comfort levels and our aim is to make everyone feel as welcome as possible while still following recommended guidelines to reduce the spread of illness. Many thanks for reading. We look forward to singing with you.
If you are unable to attend a singing with us soon, please enjoy the recordings and resources available here as well as the many videos of singings to be found on Youtube in the meantime. We know the urge to roar along with these magnificent songs can be irresistible and copies of the Sacred Harp songbook are available here.