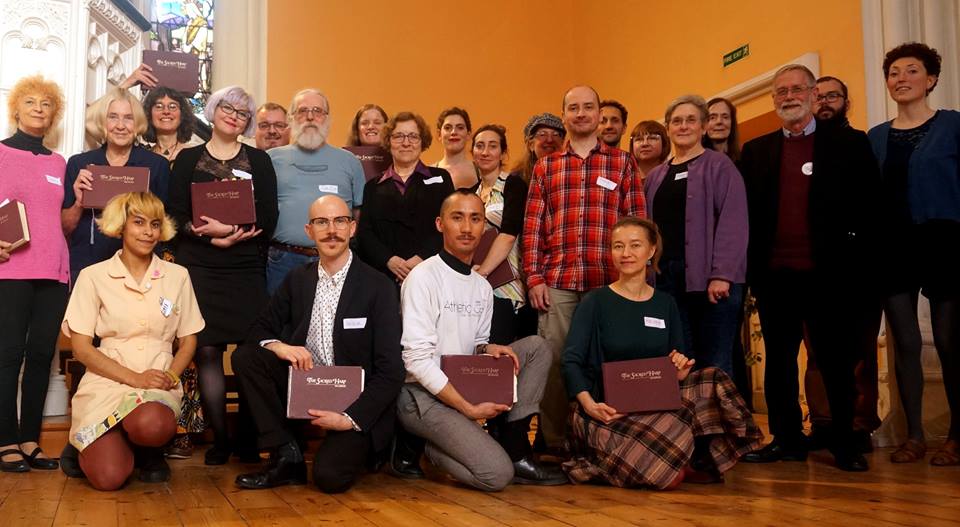 Everyone is welcome at London Sacred Harp events.
We are a welcoming group with singers of all abilities and backgrounds, and beginners are always welcome and encouraged. While we do not have a regularly scheduled singing school at the moment, it is still worth joining in with singings as you can learn as you go, and help is always available from more experienced singers if needed.
There is no admission charge, just a suggested small donation per singing to cover the hire of the hall we sing in. A few loaner books will be available for beginners, and you can also buy your own book. 
While the content and origin of the music is in a religious tradition, we welcome and have members of many different religions and none. Everyone has their own reasons for taking part. We sing not with the goal of performing like a traditional choir, rather for the joy and community it brings; for the sake of singing itself. 
About Sacred Harp
Both wikipedia and fasola.org have excellent summaries of the tradition of Sacred Harp and shape note singing. 
The joy of singing Sacred Harp – by Jamescia Thomas, CNN, 9th August 2016
"Nothing is weirder than Sacred Harp. Its favored subject matter–the pilgrim, the grave, Christ's blood–is stark; its style–severe fourths and otherworldly open fifths–has been obsolete for more than a century. Its notation, in which triangles, circles and squares indicate pitch, looks like cuneiform. Yet it exudes power and integrity. Five people sound like a choir; a dozen like a hundred." — From "Give Me That Old-Time Singing", Time Magazine
For newcomers …  a first encounter with this "powerful and elemental" sound can inspire many different reactions. "Some will say, 'Oh, that's interesting,' while others will say, 'Wow, that's beautiful,' " he said. "And then there is a certain, small percentage of people who say, 'I must do this.' " (Buell Cobb, New York Times)
I'm there in droves. (Simon Jones, Church Times "Music Takes a Sacred Shape", 7 December 2012
How can I take part?
Click here for times and locations.
Where can I find out more?
Click onwards for helpful links and further reading